IIB host interactive Insurance Indaba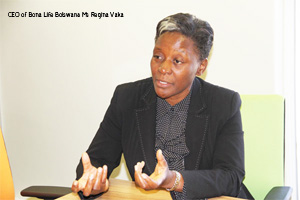 The Insurance Institute of Botswana (IIB) last week Thursday held a fruitful seminar whose purpose was to pave way for the design of training methods aimed at producing highly skilled insurance professionals.

IIB was established with the help of the Insurance Institute of South Africa and tailor-made for the needs of the insurance sector in Botswana. The membership of this non-profit making organisation is open to individuals in the insurance sector, insurance companies, insurance brokers and any other interested businesses. Among the attendants were industry giants like Botswana insurance company.

The main sponsors of the event were Munich Reinsurance Company of Africa Limited with additional sponsorship from Botswana Short Term Underwriters Association, Marsh Insurance Brokers, Zurich Insurance Company Botswana, Dynamic Insurance Brokers, FMRE Property & Casualty (Botswana) and Mercantile & General Insurance Brokers.

During the interactive seminar presentations were made on long term and short term insurance with questions been continually posed by attendants, mainly insurance professionals, who had graced the seminar-cum-launch.

Read More
A Senior Underwriter of Munich Reinsurance Company of Africa Limited, Mr Carsten Topsch, warned of the cyber risks and the role of insurance companies all over the world; of how the internet has made insurance business both difficult and easy for the sector.
He observed that email addresses, credit card details, and gaming accounts were stolen through cyber attacks and sold in the black market. Information such as home addresses, government ID numbers and birth dates were on demand in the black market, Topsch said.
All these attacks led to an exponential growth of cyber insurance. There is a major need for insurance of major technological infrastructure and data breaching from commercial businesses. In all cases three areas of insurance that need to be looked at are pricing, risk assessment and claims handling.
As the interesting seminar went on, Philip Von Der Leyen, Underwriting Manager Casualty Munich (RE) in Africa went on to explain how insurance was surviving in a competitive motor industry. He mentioned that some of the challenges they faced was the ban of aged vehicles by the government of Botswana, which is a problem more especially in a country where income per capita remains low. Tax is higher on motor insurance premiums.
Motor vehicle insurers fear that in the near future they might even fail to survive in this competitive industry. There would be more vehicles but fewer accidents; personal injury might cost more, new innovative insurers and therefore the need for a strong reinsurer which comes at boundless cost might arise.

In conclusion, CEO of Bona Life Botswana Ms Regina Vaka, making a presentation alongside topic chairperson Ms Edna Dambe, observed that statics indicated that most people retire prior to the required age of 60, some even below the age of 50, which meant that they used up their pensions early and were left poor as their lives continued without the initially agreed years of monthly payouts.

Vaka and Dambe were up to the task when they fielded questions on the annuity risk management. They explained that it was a tool used to manage the risk of reduced income at a later stage in life. Under this investment regular payments are made on a monthly, quarterly and yearly basis during retirement. The amount of payments depends on the sum invested, the length of payment and the type of annuity which had been chosen when the investment began.